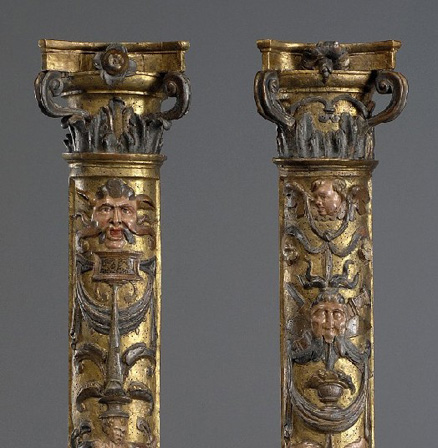 Material: Walnut,
original polychromy and gilding,
retouched in places
Height: approx 135 cm each
This art object comprises two richly decorated demi-columns. Semicircular in section,
they rise from a stylobate that forms an elongated rectangle. The semicircular,
stepped plinth leads via a convex torus-like element and a cove separated by a small
fillet to the semicircular shaft of these wall columns. The plinth of each demi-column
sports acanthus decoration above the corners of the stylobate. The demi-columns end
in varied composite capitals: the lower part of them is dominated by acanthus motifs
derived from the capital type associated with the Corinthian order. At the corners, two
foliate motifs on each grow into large, protruding yet delicate scrolls. Compared to the
ancient prototypes in the Ionic order, these volute motifs unrolling upwards seem to
be reflected in the horizontal axis. The free space between the scrolls has also been
richly varied: whereas on the one hand, an acanthus leaf rising at the centre corresponds
to tradition, on the other, an arched ornament like strapwork has been applied.
Each capital is finished off with an abacus with a central acanthus flower, which is
also varied. The design alone of the formal elements used reveals that these demicolumns
should be read as companion-pieces rather than as a pair. The stringently
symmetrical axiality of the grotesques in relief reinforce this assumption:
The decoration of the first column, which is shown on the left, begins, viewed from
the bottom up, with an architectural pedestal, on which stands a naked youth in Herculean
pose. His wrathful expression, the wide step he is taking at right angles to his
torso and the muscular upper arms stretched out to the side are all attributes attesting
to his strength. Floral motifs hung in strings are suspended from his forearms,
which end in arching scrolls. A head is depicted suspended on the left, on the right,
a helmet.
The second level begins above the youth's head, continuing with more architectural
and floral motifs as well as a cloth hanging like a festoon: a grotesquely distorted mask
ending in arc-shaped cheek lappets, a wide-open mouth and donkey's ears finishes
off this demi-column.